CharmDate.com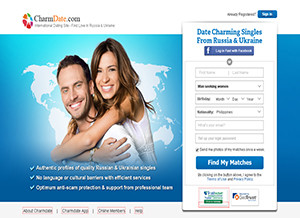 I liked the look of CharmDate and being a pretty simple looking website, was instantly hooked. I decided to sign up and see what my chances were like, especially as the site lists its three main features as optimum anti-scam protection, efficient services to help get around that language barrier, and completely authentic profiles.
Sounds good so far, right?
Registration
You can log in super fast with Facebook but don't worry, CharmDate.com won't post any information about you using the site on your social networking page. No one will find out that you're on the hunt for Ukraine love.
Alternatively, you can go about things the 'old-fashioned' way, filling in the boxes about you and what you're looking for, but who has time for that?
 *Update – you'll need to use the old-fashioned way because the Facebook sign-in page comes back with an error message every time!
Ease of Use
There's a mobile app, which makes it all easy to use, but the thing that really put me off was the fact I couldn't see ANY Ukraine singles until after the registration process. You can't even get a sneaky preview of what might be coming up,although when you try to, you offered a free trial which involves a pretty meager one free mail message, and six minutes of free chat.
 Selection of Ukraine Girls
According to the site, there were over 2,500 members online at the time I was, but only about     800 of those were from Russia and Ukraine which was pretty disappointing. This is a good site if you're looking for international love full stop, but it won't be the greatest site if you're ONLY looking for Ukraine singles as you're likely to be a little bombarded with profiles of women you're not looking for.
Value for Money
You'll need to buy credits if you want to actually correspond with any of the women you see on the site. Once you've registered of course.
You can view the profiles for free, but once you're happy with the women you've seen so far and feel like you could really connect with some of them, your credits will be used to pay for things such as live chat which is an instant message-type service, love calls, EMF mail, and more. You can also get a members pace for all three of the sites owned and operated by CharmDate.com, but the prices are a little on the expensive side. One credit is as little as $3.99, but only when you buy 100 at once, setting you back a whopping $400. Apparently this is the reduced bulk-buy rate too, originally $700!
Highlights
*Decent looking website
*Simple and fast signup process
*Mobile app to take dating on the move
Lowlights
*Incredibly expensive!
*No real information on prices before you sign in – you're not aware of how much it will cost
*Star rating: 1/5*
 CharmDate.com is a decent enough Ukraine dating website but it's just too expensive when compared with many of the other cheaper Ukraine dating websites and services.
Website: CharmDate.com