City-of-Brides.net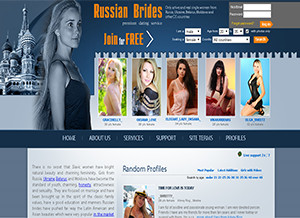 City-of-Brides.net  is one of the Ukraine dating websites I actually got quite excited about. I had high hopes for it, and one of my friends recommended it after joining up and chatting to a couple of beautiful Ukraine girls.
I didn't like this Ukraine singles site, and the weird stripy black and white website backdrop (or whatever color it is!) made my eyes hurt. When you are scrolling up and down the screen, it almost vibrates with the close-knit stripes, and it didn't make for a great browsing experience.
 Registration
The registration process is pretty quick, and you don't need to fill out your full profile before you can browse, unlike DateUkrainians.com. That profile / registration took an age!
You don't need to fill in every box on your profile (but, of course, it helps if you do), so you have the option of 'trying before you buy' – browsing members before you decide to part with your cash in exchange for credits. You can use credits to open messages from the Ukraine singles. Sending messages is free.
Ease of Use
City-of-Brides.net is an easy enough website to use that but that weird backdrop just makes it awful to browse. I didn't find myself on the site for very long, mostly because it gave me a headache!
Selection of Ukraine Girls
There was a half decent selection of girls, although it seems the most popular of them have the highest prices for opening messages. The site offers a 'Trust' level too, and some of the most expensive Ukraine singles with the highest priced letters seemed to have the lowest trust levels which was quite disturbing. On the first page of my search results, only one single member had a Trust rating of 100%. There were two red results with under 40%, and the rest were somewhere in the 50-60% mark.
That didn't bode well for me, I'm afraid, and there are other websites out there that offer this Trust rating without quite as many apparently untrustworthy profiles!
Value for Money
Not bad for value for money according to the T&C's, some of the Ukraine girls charge an absolute fortune to open a message from them, and as I've already stated, some of the girls didn't have the highest of trust levels. With the weird stripy backdrop, and the unconvincing 'genuine' members, it wasn't a site I used for long.
Highlights
*Decent website, easy to use
*Decent amount of single Ukraine girls
*Quick & simple registration
Lowlights
*Weird stripy website backdrop that gave me a headache
*Too many members with low 'Trust' levels
*Expensive to recipe messages from the hottest Ukraine girls
*Star rating: 2/5*
City-of-Brides.net is a website that you'll either like or love. I didn't like it at all. The registration process may have been quick, but a lot of the girls I would have wanted to message had quite expensive costs attached to them, and although you can't put a price on love, I found better success with more compatible girls to me, on other websites such as AnastasiaWeb.com.ua
 Website: City-of-Brides.net