DatingWomenUkraine.com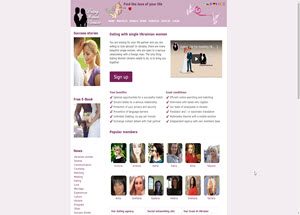 This is a serious website for serious people looking for love and marriage in the Ukraine dating world. The whole home page is plastered with brides, wedding rings and happy couples, and although most men looking for Ukraine girls to fall in love would like nothing more than this, it's just a bit too much for my liking. I would have preferred something a little more discreet and fresher to look at. In my opinion, DatingWomenUkraine.com is a bit dated.
Registration
One thing that struck me as odd in the profile and registration system was the ethnicity options – there's no simple caucasian… I ended up going with 'Other'.
The second thing that struck me was how long the registration process was. Honestly, I was there filling out that form for far too long, and after a while, the questions just started to blend in with each other. It was quite the lengthy process, I can tell you.
Ease of Use
DatingWomenUkraine.com took far too long to sign up to, and after I had filled the profile page out once and got that red error message saying I'd missed a question out… Twice, I gave up.
It just took far too long, and I got far too bored. There are other, better sites out there that don't take half as long to sign up to.
 Selection of Ukraine Girls
I didn't really spend much time on the site, mostly because it seems impossible for me to get through such a long registration page. You can search the Ukraine girls before you sign up, which was quite a good little sign I found, although not great for the girls themselves, making everything very public.
There is a good age range in the results, and if anything, I'd say there were more older Ukraine women on this site than on others I've peeked around. Like I said at the beginning, this is a site that means business – this is a site for American men and Ukraine women that are seriously looking for marriage.
Value for Money
This is more a dating agency than a dating site so things will get a bit pricier here. The Ukraine women are invited for an interview before being featured on the site, so at least you can be sure all members are genuine. There is a match-making service that costs just under $360. You even have the option of an interpreter in video-chat appointment that range from $39 to $50 per meeting, and you will pay separately for the interpreter.
Highlights
*Lots of features
*Agency-lead Ukraine dating site
*Decent range of Ukraine ladies
Lowlights
*Registration took too long – I got bored and gave up
*Expensive services (bear in mind you're essentially hiring an agency as well as a Ukraine dating site)
*Only for SERIOUS marriage-seekers
*Star rating: 3/5*
 DatingWomenUkraine.com isn't a bad website if you're hardcore seeking out marriage. It's an agency / Ukraine dating site, so you'll be paying a lot more for some of the features, and it would be wasted if you're not looking for an agency-type website.
Website: DatingWomenUkraine.com