ElenasModels.com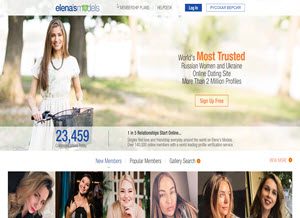 ElenasModels.com is one of the most talked about Ukraine dating websites, and despite having fifteen years and apparently over two million members under its belt, actually doesn't have the greatest reviews on many Ukraine dating review websites. That surprised me, and I decided to have a closer look anyway.
Registration
Registration takes just seconds, and one of the things that did work well in ElenasModels.com favor is the fact that the more of you profile you fill out, the more 'credits' as such, they would give you.
If you fill out your interests, for example, you are given 20 free chances to 'express your interest' to Ukraine girls. You'll get the same if you then fill out your personality, and again if you fill out a small message to your Ukraine matches. It doesn't take too long, which is good, but it does take a bit of work.
You aren't given much use of the website until you fill out your profile, so there's not really the option to sneak around the Ukraine girls before you decided to spend the time on your profile page.
Ease of Use
ElenasModels.com is easy enough to use once you get through the registration process, although that did take a while. In fact by the time I'd filled out the profile and registration pages, I left the website for a couple of hours before actually looking around. I got a bit bored…
 Selection of Ukraine Girls
There are a lot of beautiful women on these sites and although I, personally, did not come into contact with any scam-artists, there were many Ukraine dating reviews that stated not all members were genuine, often asking for ridiculous amounts of money to pay 'rent' or 'hospital bills'
SiteJabber.com seemed to come up with the worst of reviews, and I will admit I was pretty shocked by what I was reading. I didn't really find myself using the website very much after that, especially when you consider that it's a monthly membership site.
Value for Money
$19 a month gives you unlimited live chat, text and even mails, which isn't bad, and you can sign up for free without the need to input any of your credit card details. It's only when you want to start talking to one of the Ukraine girls that you'll need to start handing over money, giving you the option to have a sneaky look around beforehand.
There isn't the whole pay-per-letter business, which most other Ukraine dating sites offer, but the monthly membership doesn't really give you the option to make sure you're happy with the site before you try to use it.
Highlights
*Good looking website
*Easy to use
*No pay per letter system
Lowlights
*Too many bad reviews online
*No chance to 'try before you buy'
*Long registration & profile process before you can browse
*Star rating: 2.5/5*
 ElenasModels.com was a decent enough looking website, but once you start to go through the processes of signing up, things start to fall apart. The registration process took too long with the profile page stuff at the same time, and the monthly membership doesn't give you many options when it comes to making the most of your money. I just feel there are better (safer) websites out there.
Website: ElenasModels.com