Lovessa.com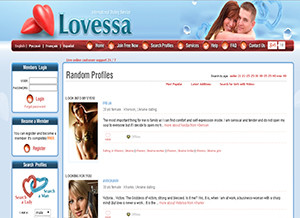 I liked the look of this Ukraine dating website, I'll be honest. Its fresh and simple, but not too simple, and there are no weird stripes or dodgy screen vibrations to interfere with the experience. You get the chance to see random profiles on the home page, which was a nice, refreshing touch – sometimes you don't want to see just the 'most popular' or 'newest members'.
It's nice to give the random singles a chance.
Registration
Registering for lovessa.com is free, and the process is relatively simple. You can browse for members before you fill out a lengthy profile page, but when you make changes, your account will be under activation / approval by the admin team for 24 hours. That means you're best off doing it right away, but that can be a waste of time if you later don't get in with the user interface or Ukraine ladies.
Ease of Use
You have a number of ways to search for your Ukraine singles, and as well as things like age, body type, location, kids, etc., you also have the option to narrow your search results and give yourself the highest chance of finding someone completely compatible with you. You can even search by 'Trust' level so you can be 100% you're not being scammed.
Selection of  Girls
There was an impressive range and variety of Ukraine ladies, but when you look a little closer, you'll see that there are quite a few with a relatively low trust level, and some of them are super expensive to open letters from. That doesn't really make for a great first impression, and with only one 100% trust level on the first page out of 10 Ukraine singles, I wasn't impressed.
But I'm sure lovessa.com is a complete, exact replica of another Ukraine dating website. I'm trying to locate which one, but I have definitely seen these members before.
Value for Money
Membership at lovessa.com is free for both men and Ukraine girls, and you can register and fill out your profile, as well as being able to look at the stunning array of Ukraine singles for free.
Receiving messages starts at $0.50 per message, but the most popular girls will often charge a lot more. You can send messages for free, but it's the tantalizing responses you'll need to pay for.
10 credits are $20. Plus, they offer a 30 day money back guarantee with apparently zero quibble, so if you're not happy with the service provided, you can contact them for a refund. That's good if you don't have great success – at least you won't need to worry about losing money.
Highlights
*Lots of Ukraine girls
*Easy membership process
Lowlights
*Exact user-replicas of another Ukraine dating website I'm signed up to
*Quite expensive to open messages from the hottest Ukraine girls
*Low user trust levels
*Star rating: 2/5*
Lovessa.com is a website I had hopes for, but as with most other Ukraine dating websites I've tried over the years, I was quickly disappointed. As well as having EXACTLY the same members as another Ukraine dating site, the trust levels of the members were disappointing.
Website: Lovessa.com