Online-Dating-Ukraine.com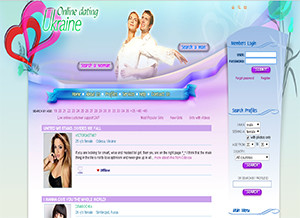 This website is incredibly cute, too cute, with plenty of love hearts, and with a number of the latest, most beautiful matches displayed on the home page, you have the option of searching your Ukraine singles by age, most popular, new girls, and girls with videos right from the main home screen.
Registration
It takes just minutes to register with , and there's no long or complicated questions to fill out – just a bit about you, what you want, and what you're about. The usual profile page stuff which is very important, in case you didn't know.
Membership is free for both men and women.
Ease of Use
Online-Dating-Ukraine.com is not just a really good looking website, it's one that you'll easily find your way around with a user interface that is clear and to the point. Not just offering a dating site with message communicated options (that you can send for free), you'll also find that you can make great use of the other services on offer, including a background check (so you get all the information upfront), and even flower delivery. All girls love flowers, and these Ukraine singles are no exception to the rule.
Selection of Ukraine Girls
Online-Dating-Ukraine.com offers a massive range of beautiful Ukraine girls, and most accounts are not approved without passport verification, so you can be sure that all the members on the site areGENUINE members. If there are any doubts, Online-Dating-Ukraine.com will request additional information from the girls (and the guys, if necessary) to ensure your safety, as well as the safety of these Ukrainian lovelies. Plus, the girls are rated by 'trust' level.
You can't get more secure than that.
Value for Money
They don't charge a standard membership fee, unlike most 'regular' dating sites, and that's what makes these Ukraine dating websites so great for you to dip your toes into the water. You can buy 'credits' in bulk, or as you wish to use them, giving you the perfect opportunity to get communicating with your lovely Ukraine ladies, even offering video chat options.
Also, once you have built up a rapport with a Ukraine single you think you could just fall in love with, you can even request to have the price of your messages lowered, which means you won't waste money on Ukraine singles you're just not that interested in.
You don't get much more value for money than that!
Highlights
*Easy, fast sign up
*Great value for money
*Trusted, genuine members
Highlights
 *Website too serious – doesn't look like a fun experience
*Star rating: 3.5/5*
Online-Dating-Ukraine.com is a Ukraine dating website that you'll find comfortable. It's also a website you'll get a little addicted to, with beautiful members and great conversation. Definitely one you should be checking out if you're in the market for beautiful Ukraine singles!
The only thing I would say about it, to mark it down, is the website is a little too cute for my liking – too many hearts and flowers. It might appeal to the ladies but for the men, it's a little too much.
Website: Online-Dating-Ukraine.com