UkraineBridesAgency.com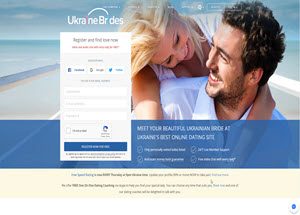 This site offers more than other Ukraine dating sites because it is agency-based. Generally, these sites are more expensive than others, but with an extended array of features and options, you tend to get more for your money.
This only works if the site is a good one, obviously.
Registration
Email verification makes UkraineBridesAgency.com a pretty safe site to use, but it does make the registration process take a bit longer than most. You need to fill in quite a few fields before your account is verified and approved for use, and some of the boxes are a bit specific. Favorite food, music, season, hobbies, etc. are included with the usual stuff – about you, about what you want from your Ukraine bride, what your dreams and aspirations are… That kind of thing.
Ease of Use
Its pretty easy to find Ukraine girls, with featured members, an easy to use search option, and even the option of saving your searches to make it easier to use the site again and again.
You can search with a whole bunch of specifics, and you even have the choice of browsing through the Elite Ladies…
 Selection of Ukraine Girls
You have your regular girls and then you have the Elite Ladies – these are girls featured on 'exceptional' and 'genuine' Ukraine-based agencies with some pretty impressive search specifics. You could call this the most extensive agency-based Ukraine dating website out there…
Value for Money
Compared to many of the other Ukraine dating websites, UkraineBridesAgency.com is a particularly pricey one, specially if you're not really in it for the agency side of things. You can attach photos to a free-word-count letter, but you'll be paying $3.60 or more for the privilege. Text chatting is at 0.40 credits per minute, with video chatting at 1 credit per minute, and you also have a MASSIVE array of gifts that you can arrange to be sent to your beautiful Ukraine bride to be. To go privately, you'll be looking at paying 100 credits just to get a Ukraine singles personal contact details!
Highlights
*Lots of Ukraine girls
*Easy membership process
*Extra features and services if you're looking for a more in-depth service
Lowlights
*VERY expensive! 100 credits just to get a Ukraine ladies contact details
*Long and complicated registration process
*Not worth it for casual users
*Star rating: 2/5*
UkraineBridesAgency.com is just as the name would suggest – an agency based way to find Ukraine love on the internet.
If you're not looking for this in-depth service, you're not going to have great success here. Imagine paying out for 100 credits to get that Ukraine girls contact details, imagine if you weren't that interested in her after all. Or worse, she wasn't that interested in you!
Website: UkraineBridesAgency.com