UkraineDate.com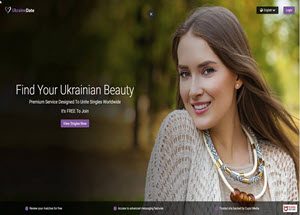 Free to join and with over 150,000 members, this is a Ukraine dating site you can put your trust in, with plenty of rave reviews and success stories that you can't help but be slightly envious of. But all this comes at a price – and a steep one at that.
Don't worry though… You'll soon find that Ukraine beauty of your dreams, just like many other western men have before you!
Registration
With the option of registering with your Facebook account, signing up to UkraineDate.com is easier than most other Ukraine dating sites I've been sneaking around on. You don't need to fill out that profile page when Facebook does the hard work for you, which means you can be well on your way to browsing beautiful matches in no time at all.
(Just so you know, the site won't share any of the information on your Facebook page, so no one will find out!)
 The profile page setup is a two-page job, which takes longer than some of the other sites, and you don't have the option to browse Ukraine singles before you take the time to fill out that 'About You' page.
Then you're prompted to upload photos, or add them from your Facebook account.
Ease of Use
UkraineDate.com quite a fussy website, but once you get your head around it, you'll see this is a site actually backed by Cupid Media, so you know it's a good one to get yourself signed up to, to find that Ukraine girl with the great morals you keep hearing about.
Selection of Ukraine Girls
With over 150,000 members, finding the Eastern European or Ukrainian girl of your dreams has never been so easy. Let's face it, if you can't find love amongst 150,000 women, these women probably aren't the ones you're looking for!
One of the leading sites for Ukraine dating, UkraineDate.com won't let you down with every single type of Ukraine girl you could imagine.
Brilliant blondes – you got it!
Beautiful brunettes – you got those too!
Fiery redheads – you guessed it, plenty of those too!
Plus, with the option to search the way YOU want to, with the specifics most important to you, you have an even greater chance of finding love!
There didn't appear to be many members online when I was using. In fact, there were under 200 Ukraine singles ready to chat. On many of the other sites I use, the online section would range into the thousands.
Value for Money
You can create your profile for free, as well as browse members and check out their photos for free, and you can even start the correspondence with the Ukraine singles you like the look of for free.
There are many options in the packages, but you don't have a pay as you go setup. Instead you have a membership package which you can buy one month ($34.99), three months or twelve months – $149.99. It's pretty costly, especially if you're not going to be sure you'll like the site anyway.
Highlights
*Sign in with Facebook – super fast!
*Great features
*Easy to use website
Lowlights
*Not enough members online when I was online
*Pretty expensive
*Star rating: 3/5*
UkraineDate.com gives you a website that isn't overly simple to use, and is quite expensive with no pay as you go option. A monthly subscription is quite expensive, and a twelve-monthly package seems just like a lot of commitment. There are cheaper, better websites!
Website: UkraineDate.com